T.103-104N.-R.5W.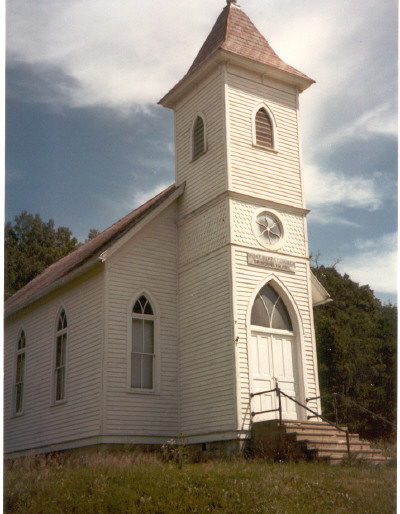 Photo of the Mound Prairie Church
taken by John Stallings, III
From, "The History of Houston County", Taylor Publishing, 1982
There are conflicting claims as to the personnel and the date of the first settlement of Mound Prairie. The name of the township was suggested by Dr. Chase in remembrance of the remarkable rounded bluff in section four, surrounded by a wide valley on all sides. This was originally a part of Union and La Crescent. The first town meeting of which there is a record, was at the house of Jesse Hewitt in April 1860. Isaac Holmes was moderator, and the first officers chosen were: Supervisors, George Cannon, chairman, Jacob Bush and George Larson; assessor, Jacob Kroehler; town clerk, Wm. Connington; treasurer, Seth Lore, and superintendent of schools, Andrew Orr.
A heavy growth of black walnut timber along the Root River, which could be cut and rafted down to the Mississippi, attracted those making temporary claims, followed by the supplementary land office operators, early in the 1850's. The first claim was John Crypts, followed by Thomas Van Sickle in 1852. Van Sickle sold his claim in section 21 to James C. Day who, in a few years, sold it to Mr. P. Eberhard. Jacob Bush had a claim on section 26.
Philip G. Vix, a native of France, came from Wisconsin in 1854 locating on section 29. Edward S. Lore arrived in 1855, locating on North Ridge, later joined by his father, Seth Lore, who subsequently constructed and operated the Lorette House until 1861 on the old territorial road from La Crosse to St. Paul.
In 1856 Dr. J. G. Sheldon located on section 33. He had a village surveyed and platted, and bestowed upon it the Castilian name of "San Jacinto." It was on Wm. Hunter's land later purchased by Wm. Orr, Sr. The San Jacinto and Lorette post-offices were discontinued in 1869, and the office established at Mound Prairie store with J. A. Eberhard in charge. It remained there until the store was closed in the 1950's under the direction of Wm. Blumentritt.
The Southern Minnesota Railroad Company, later to become the Milwaukee Railroad, ran in the valley of the Root River, but was abandoned in 1981.
The township has always been predominantly agricultural with some periodic lumbering, but in the 1960's and 1970's The Valley High Country Club with about thirty residences has been developed in section 3.
The present 1982 township officers are: Phillip Eberhard, clerk; Ed. Schumacher, treasurer; Ralph Schild, Donald Boldt, and Francis Von Arx, supervisors.
Submitted by Ivy McCune
You are visitor
since this counter was added July 13, 2003.